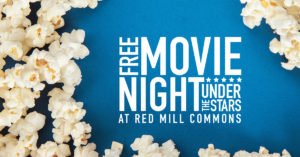 Red Mill Movie Night has been rescheduled for August 19th. July's movie night was canceled due to inclement weather, but our fingers are crossed for clear skies and sunshine this time around.
Promised the kids you'd set up that outdoor movie night in the backyard but have yet to make it happen? Need a family friendly outing that will please everyone? Or just a relaxing night out under the summer stars? We've got you covered.
Join us Friday, August 19th as HOT 100.5 kicks-off a pre-outdoor movie block party at 7:00pm with live music from local musician, James Bush, giveaways, and more. Then, enjoy a movie that's fittingly outside and wild – Zootopia at 8:30pm. We'll see you under the stars.
Accept your invite on Facebook here and share with friends!