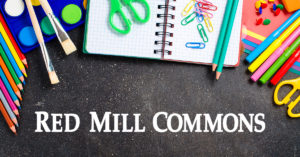 School supplies from Target? ✓
First day of school outfit from 17th Street Surf Shop? ✓
New Vans shoes from Coastal Edge? ✓
Fresh hair cut from Reed Manning Salon and Spa? ✓
Sports gear from Olympia Sports? ✓
Red Mill Commons has you covered for back to school shopping. Even better – you can shop at all of our retailers Tax-Free this weekend only, August 5th-7th! That means you can get all of your back to school supplies and clothes this weekend, and not pay a penny for tax.
Head over to our Facebook page to get the latest updates on tax-free weekend specials and promotions. We will be announcing the winner of our Back to School Giveaway on August 4th. Stay tuned to find out which lucky student will win a Red Mill Commons shopping spree featuring gift cards to the following retailers:
?$50 – Coastal Edge
? $50 – T.J.Maxx
? $50 – Target
? $25 – Crazy Good Donuts & Ice Cream
? $25 – Primo Pizzeria & Italian Ristorante

Are you ready to shop tax-free?